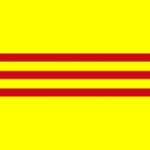 Thank you to CAPA for giving all Asians an opportunity to connect and learn from one another. The 2019 Splendor of the East celebration was a perfect example. Its members act as a voice inside the organization when it comes to inclusion and change, while maintaining its respective cultural identity.
Celebrating Asian Pacific Heritage Month, Vietnamese American Association of Michigan (VAAM) would like to share a brief history of our Vietnamese Freedom and Heritage flag. The Vietnamese Freedom and Heritage Flag is a yellow background with three horizontal red stripes. The three red stripes symbolize the unifying blood running through Northern, Central, and Southern Vietnam. This flag accurately describes the common values that the Vietnamese Americans share with other Americans, such as liberty, freedom, and the pursuit of happiness.
Since June 2002, many cities and states across the country have recognized the Vietnamese Freedom and Heritage flag as the symbol of the Vietnamese-American community. In 2006, this flag was formally recognized by the Michigan Governor, State Senate, and House of Representatives
Based on the 2010 Census, there were 1,548,449 people of Vietnamese descent living in the United States. The red flag with the yellow star does not represent Vietnamese Americans. Showing the wrong flag could be seen as offensive.
The 2019 CAPA event was a success! We all had fun, connected, and learned from one another. Thank you for organizing events that bring us all together in the spirit of diversity and inclusion! We look forward to many more collaboration between CAPA and the Vietnamese American community for years to come.
Đinh Thái Hòa, VAAM President.