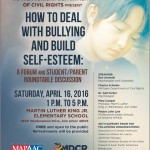 Michigan Asian Pacific American Affairs Commission (MAPAAC) and The Michigan Department of Civil Rights – Dealing with Bullying & Self-esteem Forum on April 16th at Ann Arbor:
Saturday, April 16, 2016 from 1:00 PM – 5:00 PM
Martin Luther King Jr. Elementary School
3800 Waldenwood Drive
Ann Arbor, MI 48105
Free and open to the public.
Refreshments will be provided.
This is a great opportunity for the APA community to come and share their concerns and learn how to deal with the issue of bullying that may affect the mental and physical health of the youth and family.
Support organizations:
Association of Chinese American (ACA)
American Citizens for Justice
APIAVote-Michigan
Chinese American Society of Ann Arbor (CASAA)
Council of Asian Pacific Americans (CAPA)
MiIndia.com
Philippine American Community Center of Michigan (PACCM)
Please share this with your contacts and network about this worthwhile event.