METAMORPHOSIS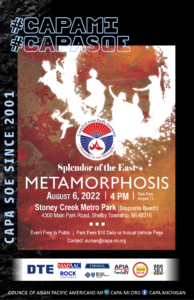 Now in its 21st year, the Council of Asian Pacific Americans (CAPA) proudly presents its signature event, "Splendor of the East." CAPA's much anticipated annual cultural showcase will take place at Stoney Creek Metro Park on Saturday August 6, 2022 at 4:00 PM.
This year's Splendor of the East theme of Metamorphosis aims to highlight the rebirth of ourselves and our community after the past 2 years as we head into our 3rd decade of SOE, we are changing things up a bit and bring a new twist to CAPA's signature event!
For the first time in the history of CAPA, this year's SOE event celebration will be held at a metro park. The event will bring together the music, art and talent of Michigan's Asian Pacific American community and rich cultural heritage and will be a spectacular homage to conquering the difficulties of the past couple years and a celebration of love shining through to bring hopes of a brighter future!
Click here to share and view SOE 2022 Flyer
Click here to view Splendor of the East 2021 teaser video
Click here to view Splendor of the East 2014 reception with Governor Rick Synder
WHEN
Saturday August 6, 2022
4:00 PM
(Rain date August 13, 2022)
LOCATION
Stoney Creek Metro Park (Baypointe Beach),
4300 Main Park Road,
Shelby Township, MI 48316
FEES
Event Free to Public
Park Fees: $10 Daily Vehicle or Annual Vehicle Pass
For more information, please contact SOE@capa-mi.org