Click here to download flyer for 2016 Annual Statewide Asian Pacific Americans Leadership Summit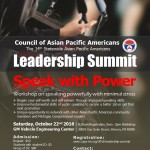 Speak with Power
Workshop on speaking powerfully with minimal stress.
EVENT GOALS:
To continue to build leadership capacity in the Asian Pacific American community
Improve fundamental skills of Public Speaking to secure a better job or get that next promotion!
Regain your self-esteem and self-worth through improved speaking skills
Inspire the Asian Pacific American young adults to lead and to give back to the community
Offer a unique networking opportunity to the Asian Pacific American leaders with business leaders, community leaders, members, and young adults
WORKSHOP:
Workshop will be conducted by Sachi Koto, an executive coach who works extensively in the areas of communications, public speaking, leadership, executive presence, accent reduction, media training and diversity. With her 30+ years of on-air work as an anchor at CNN, Japan Cable Television Network in Tokyo and other media outlets, Sachi will guide you to attain the next level of sophistication in career development through speech, presentations, executive presence and leadership coaching.
LOCATION:
GM Vehicle Engineering Center
30001 Van Dyke Street, Warren, MI 48090
Saturday, October 22 2016, 9 AM – 2:00 PM
Click here to download driving and parking directions at GM Vehicle Engineering Center (Entrance Gate #11)
Registration, networking and breakfast will begin at 8:30 AM
ADMISSION: (includes continental breakfast and box lunch)
Regular: $10
Students with ID: $5
Group of 10: $80
REGISTRATION:
Click here to register and pay online
Or send email to Program Chair with registration details and mail checks to CAPA Post Box address: P.O. Box 407, Northville, MI 48167.
* SPECIAL OFFER:
Free admission to the 2016 Leadership Summit on joining CAPA as lifetime member ($25).
CONTACT:
President: Aneesa I. Rashid, Ph.D. aneesa@capa-mi.org
Program Chair: Farah Ahmed farah@capa-mi.org
2016 Leadership Summit