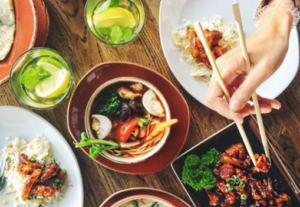 Introducing CAPA's Taste of Asia:
Take a virtual tour of truly authentic ethnic Asian restaurants in Southeast Michigan and learn about the food, the traditions and details you might never have known about the culture!
CAPA's virtual cultural and culinary showcase was born out of a desire to bring the community back together during the pandemic.
Many of you will recall our networking excursions 4 or 5 years ago where we met at a designated ethnic restaurant, shared great food and learnt about the culture and cuisine of that ethnicity from the restaurant owner or head chef.
We want to replicate this experience for many more and the pandemic has taught us that we must be flexible and we must look at things differently – keeping the spirit and soul of the activity but changing the mechanisms to suit our ever changing world and our needs.
This is also a means for us to highlight these hardworking individuals who own these beautiful restaurants serving authentic cuisines with pride. We want to bring their cultural vibe into your homes that you may also participate in that experience.
Click here to share and view the Taste of Asia flyer.
For our fourth installment of CAPA's Taste of Asia, we learn how to make Yakisoba – Fried Japanese Noodles.
As a courtesy, we are requesting restaurants to feature limited time coupons to encourage us to drive just a little farther for that special carryout and that experience of a shared meal that is unique and special because it represents something more than food – it represents our identities! Restaurant Owners or Head Chefs, contact us to be featured!
Foodies, be sure to sign up on our web page to receive valuable coupons to sample the delicious food featured.
January Episode – Kimchi Festival
For our third installment of CAPA's Taste of Asia, we visit the Korean American Cultural Center in Southfield, Michigan to learn how to make Kimchi at the famous Kimchi Festival.
September Episode – Ypbor Yan Restaurant
We travel to Ann Arbor at the famous Ypbor Yan Chinese museum and restaurant.
Chef Zhong of Olympic fame, is going to show us how to prepare a Sichuan delicacy, called Shui Zhu Niu Rou or Water Boiled Beef. The dish sounds plain and mild but is far from it.
Watch a world-renowned chef prepare this and then try making this yourself, in your kitchen and watch the oohs and aahs flow in!!
Kappu's Kitchen