LOVE CONQUERS ALL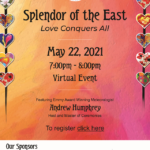 Now in its 20th year, the Council of Asian Pacific Americans (CAPA) proudly presents its signature event, "Splendor of the East." CAPA's much anticipated annual cultural showcase will take place, virtually, on Saturday May 22nd, 2021 at 7:00 PM.
2020 was a difficult and a monumental year across the globe, and this year's Splendor of the East will highlight the truth that despite all challenges, love will always win. This is an especially important message in light of the recent hateful events that have been experienced by our community, nationwide.
The event will bring together the music, art and talent of Michigan's Asian Pacific American community and rich cultural heritage and will be a spectacular homage to conquering the difficulties of this past year and a celebration of love shining through to bring hopes of a brighter future!
WHEN
Saturday May 22, 2021
7:00 PM
LOCATION
Virtual
For more information, please contact SOE@capa-mi.org