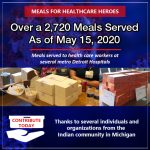 Michigan Indian Community launches Meals for Healthcare Heroes with support from various organizations, individuals and groups in response to the COVID-19 pandemic that is gripping our city, state and nation. Several healthcare workers have been working long hours with limited medical supplies. The least we could do is offer a good meal.
#mealsforhealthcareheroes
Over a 1,500 meals served as of April 24th, 2020.
Program Cost:
Program costs vary by number of people served at a location. Average cost of each meal is $8 Plus.
Groups of friends may pool together and sponsor the program as well. We will publish the names of all donors. Donor organizations and Individual names will be listed under each meal served in the Program Updates section along with pictures. Miindia.com will keep the list updated.
How do I participate?
Michigan Indian community organizations and individuals are invited to participate in an effort to show our solidarity and appreciation for the healthcare workforce in Michigan. The sponsor can contact info@miindia.com to mobilize a plan to ensure our healthcare workers facing long hours are able to continue accessing nutritious food during this crisis.