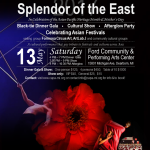 Splendor of the East 2017
Ford Community & Performing Arts Center, Dearborn, MI
Saturday MAY 13, 2017
4:00 PM – 7:00 PM Black-tie Dinner Gala
7:30 PM – 9:00 PM Cultural Show
9:00 PM – 10:30 PM Afterglow
Celebrating Asian Festivals
Celebrate Asian pacific heritage month and Mother's Day through Black-tie Dinner Gala and Cultural Show that pay tribute to festivals and cultures across Asia. . .

Cultural Show with visiting art groups Formosa Circus Art (from Taiwan), ArtLab J and community cultural groups. . .
The event will begin at 4:00 PM with a black-tie optional dinner gala featuring 8+ courses of Asian fusion family style dinner, including a special tribute to Mother's Day. After dinner, SOE cultural performance will begin at 7:30 PM, followed by Afterglow at 9:00 PM. Highlights of the evening include Celebrating Asian Festivals, a show that will entice your senses with both traditional and contemporary composition of artistry, and Asian Festival Calendar 2017, a round-up of all the best festivals in Asia this year. Come join us for an evening of breathtaking entertainment and cultural enrichment that will amaze and inspire you!
SOE 2017 production is a new collaboration between professional creative teams and community cultural groups. CAPA has joined together with visiting group Formosa Circus Art (from Taiwan), ArtLab J (Metro Detroit), and our 13 selected community cultural groups (including China, India, Japan, Korea, Philippines, Polynesia, Taiwan, Thailand, and Vietnam) to illuminate the beauty of Asian heritage. With such a strong pool of talent performing, this year's SOE show promises to be an unforgettable experience.
CAPA's signature events, including SOE, continue to demonstrate the growing strength of the Asian Pacific American communities and their increasing contributions to Michigan's economy, diversity, and vitality. We deeply appreciate the community's support for our initiatives and events, such as Splendor of the East. We hope you will join us on May 13, 2017 for this fascinating journey into our splendid Asian festivals!
For more details about Splendor of the East Production, please contact: Sharon Dow, SOE Chair and Production Manager at sharon@capa-mi.org
Splendor of the East 2016