OUR SHARED EXPERIENCE:
br>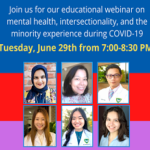 In partnership with Madonna University, CAPA presents Mental Health Webinar – Our Shared Experience: The Role of Race & Identity on Mental Health in Young Adults.
The panel discussion comes during a time when according to a recent ABC News article, in a recent survey conducted by the Centers for Disease Control and Prevention, 63% of 18-to-24-year-olds reported symptoms of anxiety or depression, with 25% reporting increased substance use to deal with that stress and 25% saying they'd seriously considered suicide. The goal of the panel discussion is to offer support and resources to young adults during this critical time.
Click here to view the flyer for more details.
This free event is open to the public and will take place via Zoom.
Join us for our educational webinar on mental health, intersectionality, and the minority experience during COVID-19.
Panelists:
Dr. Saba Maroof – Child, Adolescent, & Adult Psychiatrist, Claire Ofiara – Director of Diversity and Inclusion Madonna University
Joseph Paul Javier – Council of Asian Pacific Americans
Chloe Park – Wayne State University Student National Pharmaceutical Association
Celina Boey – Madonna University Mosaic Scholar
Linh Pham – WSU Student Pharmacist Diversity Council
br>
This free event is open to the public. Registration required!
WHEN
Tuesday June 29, 2021
7:00 PM to 8:30 PM (EST)
REGISTRATION
LOCATION
Virtual – Zoom link will be emailed after registration
For more information, please contact edu@capa-mi.org
#mentalhealth #healthcare #inclusion #health #event