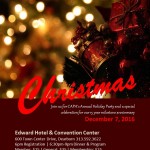 Dear friends,
Please join us at our annual CAPA Holiday Party and a special celebration of CAPA's 15 year anniversary milestone.
Edward Hotel & Convention Center
600 Town Center Dr, Dearborn, MI 48126
Tuesday December 7, 2016
Registration: 6:00 PM; Dinner starts: 6:30 PM
Members: $25; Non-Members: $35; Membership: $25
Please RSVP by November 30, 2016. Registration required for entry, pay at the door or mail a check payable to CAPA at PO Box # 407, Northville, MI 48167.
Email rsvp@capa-mi.org or call (810) 602-9850 to register.
Wishing you a joyful and happy holiday season.
Warm Regards,
Aneesa I. Rashid, PhD
CAPA President