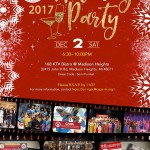 Please join us at our annual CAPA Holiday Party on Saturday December 2, 2017.
168 KTV Bristro
32415 John R Road, Madison Heights, MI 48071
Saturday December 2, 2017
Time: 6:30 PM to 10 PM
Dress code: Semi formal
Registration: 6:00 PM; Celebrations from: 6:30 PM to 10 PM
Members: $20; Non-Members: $30; Students: free (valid Student-ID required)
Please RSVP by November 27, 2017.
Registration required for entry, pay online or mail a check payable to CAPA at PO Box # 407, Northville, MI 48167.
Click here to register and pay online.
Wishing you a joyful and happy holiday season.
Warm Regards,
Angela Wang Beasinger
CAPA President