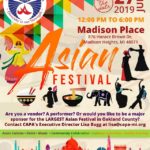 CASTING CALL DEADLINE: July 1, 2019
LOCATION: Madison Place, 876 Horace Brown Dr., Madison Heights, Michigan 48071
PERFORMANCE DATE: July 27, 2019
PERFORMANCE TIME: 12:00 Noon TO 5:00 PM
RSVP: Toni Martinez, Chair Cultural Affairs
RECRUITMENT EMAIL (Casting Call) Countries: China, Japan, India, Korea, Philippines, Polynesia and more…Everyone welcome, High School & College Students, Cultural Organization
We are looking for cultural / students / organizations as entertainment to perform at this event. There will be 2000-3000 guests. The event is free admission – open to the public.
Entertainment portion will begin at 12:00 PM – 5:00 PM. Once you have confirm commitment you will be assigned a time slot, I will facilitate additional details of the program. Please note we will do our best to accommodate timelines, it is important everyone can comply to the time limitation.
RSVP to Toni Martinez, Chair Cultural Affairs and provide the following information: DEADLINE JULY 1ST
Description of your routine, timeline (limit to 10-15 min. slot for each cultural country)
Submit final music cut in MP3 format by July 1st.
Thank you
Toni Martinez
CAPA Cultural Chair, Production Manager