Click here to download flyer for 2015 Annual Statewide Asian Pacific Americans Leadership Summit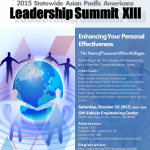 Annual Statewide Asian Pacific Americans Leadership Summit – XIII
Saturday October 10, 2015 (9:00 AM to 2:00 PM)
GM Vehicle Engineering Center
30001 Van Dyke Street, Warren, MI 48090

Driving and parking directions at GM Vehicle Engineering Center
(Entrance Gate #11)
In collaboration with other member organizations, Council of Asian Pacific Americans (CAPA) will host the 13th Leadership Summit on Saturday October 10, 2015. CAPA's annual leadership summit focuses on building bridges and fostering growth within the Asian Pacific American Community and other organizations to bring about a positive social and economic change.
This year's summit theme is "Enhancing Your Personal Effectiveness – The Power of You as an APA in Michigan"
Workshops on The Power of Networking and Effective Communication Styles
Event Goals:
To continue to build leadership capacity in the Asian Pacific American community
Inspire the Asian Pacific American young adults to lead and to give back to the community
Offer a unique networking opportunity to the Asian Pacific American leaders with business leaders, community leaders, members, and young adults
Admission: (includes continental breakfast and box lunch)
Register and pay onsite.
Regular: $10
Students with student ID: $5
Group of 10: $80
Registration and Breakfast will begin at 8:00 AM.
This is an excellent opportunity for Asian leaders from across Michigan to come face to face, network, build awareness and exchange ideas. We encourage the participation of all community organizations.
With your support and participation, this event will be a success.
Aneesa I. Rashid, Ph.D.
CAPA President
Pina Chhaya
CAPA Executive Director
2015 Leadership Summit