SOE Memoirs (2007 – 2014)
Battle of the Stars II
Theme: My Heritage – A dose of Cultural Hospitality & Musical Ensemble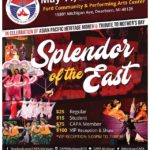 Month of May is the Asian Pacific American Heritage month. Designated by President Bush as such since 1999, the Michigan Asian Pacific community had been celebrating the month-long yearly event with a cultural show showcasing their many cultures with a variety show aptly named Splendor of the East. Presented in various venues in Macomb Township, Southfield and Dearborn, this year's celebration will be at the Ford Community Center for the Performing Arts in Dearborn on Saturday May 11, 2019 starting 5:00 PM.
Click here to view Certificate of Tribute – Splendor of the East by Governor Jennifer Granholm
An extraordinary collaboration of cultural depictions through dance and music from China, India, Japan, Korea, Philippines, Polynesia, Taiwan and other non-Asian Pacific countries. Splendor of the East will entice your senses with both a traditional and contemporary composition of artistry.
The Asian Pacific American community in Michigan is growing in numbers and in strength, and continues to contribute to the state's economy, diversity, and vitality. Your support for initiatives and events, such as Splendor of the East, is greatly appreciated.
We hope you will join us at the Splendor of the East 2019!
DISCLOSURE: Splendor of the East promotes cultural diversity. The pre-selection of the performers are not limited to Asian/Pacific cultural groups only. On behalf of the CAPA board and sponsors we welcome all cultural genres.