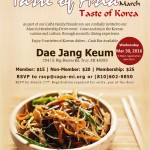 Come and join us to an evening delight with delicious ethnic food of Korea.

As part of our CAPA family/friends you are cordially invited to our March 2016 Membership Drive event. Come and enjoy the Korean cuisine and culture, through an exotic dining experience. Enjoy 5 varieties of Korean dishes! (Cash bar available.)
Artist and graphic designer Dominic Pangborn, and Sook Wilkinson, a clinical psychologist and author, will share aspects of Korean culture with attendees.
CAPA will host Taste of Korea as part of Taste of Asia March on Wednesday March 30, 2016 at 6:00 PM at Dae Jang Keum, 2947 E. Beaver Rd, Troy, MI 48083.
Admission is only with a reservation.
CAPA Members – $15
Non-Members – $20
CAPA Lifetime Membership – $25
Please plan to arrive at 5:30 p.m. Dinner will be served promptly at 6:00 p.m.
RSVP: rsvp@capa-mi.org